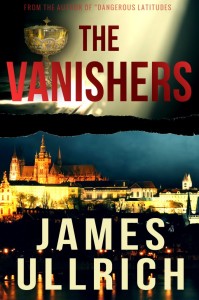 Buy the eBook!
Priceless works of art are vanishing from Europe's greatest museums, and the culprits are a shadowy team of experts in espionage and cutting-edge technology who can make anything vanish from anywhere—for a price. They are allied in an elite heist team known as the Vanishers, and their exploits have electrified the continent, giving them near-mythical status. They seem beyond capture.
Until now.
With an elite Interpol unit on their trail, the team considers quitting while they're ahead—until a mysterious collector seeking a precious relic offers them the challenge of a lifetime. The Vanishers embark on a treasure hunt across Europe even as one member harbors an explosive secret that could doom them all.
An elaborate game of cat and mouse ensues as their nemesis, a determined Italian detective with a secret of his own, closes in. The detective soon finds his life threatened by an enemy operating deep within his own ranks, while the Vanishers realize their new assignment is more than they'd bargained for. After a stunning discovery and a tragic death, an alliance is forged between the adversaries to unmask the mysterious figure manipulating them all from the shadows.
Racing from the museums of Rome to the dark alleys of Prague, no one is quite who they seem to be as the Vanishers attempt pull off the heist of the century—and survive.
Praise for The Vanishers
"A great jaunt around Europe with the next twist coming when you least expect it and from the most unexpected sources."
"…a great plot with surprises that keep you turning the page. James provides vivid descriptions of both place and characters that draw you further into the story. I would definitely recommend the Vanishers."
"A well written story with strong characters and a good plot that works. The story is full of complexities and with all the twists and turns keeps you guessing. A great thriller."
"I normally like fast-paced action and intrigue, and this did not disappoint. There was enough international intrigue and an unusual "Columbo" style detective to keep it interesting, and the twists and turns kept me up late at night reading."
"I would definitely read more from this author."
"This work would make a great movie lots of action and intrigue…"
"A thriller needs exciting characters, an exciting premise, and an exciting locale. Ullrich provides plenty of all three, as well as a sharply honed skill for description."